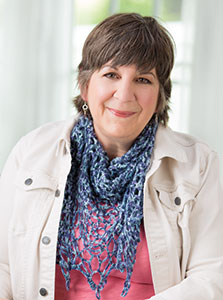 Note From the Editor
Summertime stitching projects might be different from the choices we make the rest of the year, but those of us who love to crochet adapt our projects to warmer weather with little fuss! I love to crochet with a variety of yarns throughout the year, but once warmer weather arrives, I'm happy to hook with beautiful silk, linen and cotton yarns! The cool feel of cotton especially gets me thinking of summery tops, shawls and lightweight projects for the home.
In this issue, we've dedicated a whole chapter to cotton. You'll find great projects that are just perfect for warm-weather stitching. I've added several to my to-do list that will be perfect for the home. I especially love the Faux-Macramé Plant Hanger, Wicker Weave Table Runner and Framed Floral Place Mat! If you are new to crocheting with cotton, make sure to read the informative Crocheting With Cotton article that includes tips and tricks about working with this wonderful natural fiber.
Another feature this month includes a collection of creative designs that are all crocheted with variations of the popular shell stitch. In addition to the two gorgeous throws, you'll find a wrap, a summery sun hat, a pretty scarf and a "swoncho"! A cross between a sweater and a poncho, the Shell Stitch Swoncho is one garment you'll find yourself wearing all summer long—over your bathing suit at the beach or on cooler summer evenings with a cami and jeans.
We continue our summery salute to cotton yarns in our regular features too. Make sure to check out the Cabana Striped Dishcloth, the Ginger Purse and more!
So, grab a glass of iced tea, find a warm spot outside and dive into this summery issue!
Happy Crocheting!

Jackie Daugherty, Executive Editor
Jackie Daugherty is the editor of Crochet World magazine. She also edits the special newsstand issues of Crochet World and Crochet! magazines and is the project manager for Annie's Hook & Needle Club.