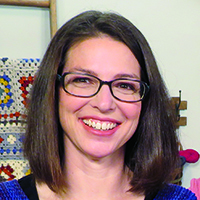 Note From the Editor
Spring is upon us in all its glory and so is color. After a drab and dreary winter it is about time. I wanted to bring all the colors of spring into your home, as well as give you the opportunity to maybe try out some styles of crochet that you havenít tried in the past. Several patterns in this issue are dedicated to how to use crochet to create an image on your piece. Colorwork images can be worked in several techniques in crochet: corner-tocorner, tapestry, stranded colorwork, filet and intarsia crochet. We bring in a little bit of each with fabulous projects for all around the house.
We have projects that embrace the concepts associated with spring, like flowers and Easter, as well as the colors of spring. One of my favorite ways to explore color combinations is with granny squares. But we decided to take things one step further and see what all can be created if we take the traditional granny stitch of a 3-double crochet group and work it in a variety of ways. The results are just mesmerizing and we hope you enjoy exploring the usage of the stitch group as well as all the glorious color combinations.

Britt Schmiesing,
Crochet World
managing editor
Britt Schmiesing is a knit and crochet designer as well as an artist. She taught herself to knit in 2005 to relieve stress from the rigors of being a junior and high school Spanish teacher.
A few years ago, Britt taught herself to crochet to assist with her new job at Annieís Publishing. Her designs have appeared in Creative Knitting, Crochet! and Crochet World magazines and Seasons 10 and 12 of the TV show Knit and Crochet Now! She loves designing garments and wearables.
See more of her work on Instagram: @britt.schmiesing.