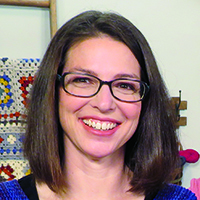 Note From the Editor
Fall is upon us and as a crocheter, this is my happy time. I crochet year-round but the cool weather and changing leaves kick my need to create into high gear. So it is super exciting to be joining Crochet World during this time of the year.
My grandma Harriet and grandma Bailey were crocheters, but as a child I had no interest in it whatsoever. It wasn't until I had children of my own that I took up the yarny arts. I started off teaching myself to knit. When I decided I wanted to learn to crochet, I had to teach myself and rely on some aid from my friends as both of my grandmas had passed on. Knitting and crocheting have brought me hours of relaxation and lots of gifts to give to those I care about. I wish I had developed the interest sooner so that I could share some valuable time with my grandmas. But I am so glad to have discovered the wonder of creating with yarn and I hope to share that with you in each issue to come.
For this issue, I hope to tempt you to expand your fiber options and try some smaller projects using luxurious alpaca yarn. It feels so soft and warm against the skin; you are going to love working with it and creating lovely accessories to wear as the temp continues to drop.
As the harvest season kicks into high gear, it's time to transform your home to reflect this wonderful time of year. You will find beautiful afghans, unique pillows and colorful, whimsical home decor pieces for any room in your house in the packed Harvest Home chapter. And for those who prefer the delicate nature of thread crochet, there are several beautiful autumnal pieces in the Just Threads chapter and a couple of projects with very thin yarn that may also tempt you.
I am new to this editor gig, but my wish is that you enjoy this issue that I have curated for you as much as I have enjoyed putting it together for you.

Britt Schmiesing,
Crochet World
managing editor
Britt Schmiesing is a knit and crochet designer as well as an artist. She taught herself to knit in 2005 to relieve stress from the rigors of being a junior and high school Spanish teacher.
A few years ago, Britt taught herself to crochet to assist with her new job at Annie's Publishing. Her designs have appeared in Creative Knitting, Crochet! and Crochet World magazines and Seasons 10 and 12 of the TV show Knit and Crochet Now! She loves designing garments and wearables.
See more of her work on Instagram: @britt.schmiesing.