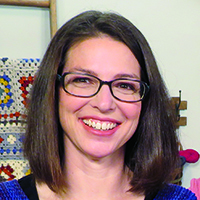 Note From the Editor
Yes! Finally it is almost the holidays!
Time for family, food and gift-giving -- all my favorite things! I knit and crochet like a mad woman when this time hits. Partly to get last-minute gifts ready and partly to save my sanity from the craziness that just seems to go along with this time of year. Yarn crafts can be so relaxing and therapeutic!
In this issue, we run the spectrum on great projects, from amazingly unique doilies to quick last-minute gifts to garments and accessories as well as lovely ornaments to decorate your tree. The ornaments are great because they can double as decorations on presents. Attach them with your tags and the recipients get a bonus gift that they can enjoy every year!
If you are new to garment-making or consider yourself a seasoned garment maker yet can't seem to get the right fit, we have a new series starting that will give you all the information you need to make a perfect garment. In four installments, we are going to walk you through how to take your measurements, pick the right size, figure out how the garment is constructed and put it all together for the right fit every time! Be sure to follow along in the next several issues!
We hope that you are enjoying the new look of Crochet World as well as the additional benefits. Don't forget to scan the QR codes that you see scattered throughout the issue to get direct links to video tutorials, yarn purchasing options or additional helpful information. And if you aren't already subscribed, we encourage you to do so to unlock even more benefits!

Britt Schmiesing,
Crochet World
managing editor
Britt Schmiesing is a knit and crochet designer as well as an artist. She taught herself to knit in 2005 to relieve stress from the rigors of being a junior and high school Spanish teacher.
A few years ago, Britt taught herself to crochet to assist with her new job at Annieís Publishing. Her designs have appeared in Creative Knitting, Crochet! and Crochet World magazines and Seasons 10 and 12 of the TV show Knit and Crochet Now! She loves designing garments and wearables.
See more of her work on Instagram: @britt.schmiesing.