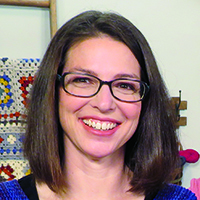 Note From the Editor
The summer months are upon us. Itís not a common season for crocheters to be stitching up a storm, so we decided to give you some good reasons to pick up your hook in these toasty months.
Most crocheters love to give and share their craft with others. This issue is packed with projects designed just for that purpose. There are several charity projects, some with specific charities in mind and others that are designed with several options in mind. Not really a charity stitcher? Thatís OK. They would make great gifts in general; get a jump start on Christmas instead. Each of the thread crochet projects would also make great presents! Summer is also a perfect time to try out new stitches and new stitch patterns. There are several stitch sampler projects that will keep you happily stitching away as you learn new stitch combinations.
Stitch samplers are trendy and super fun to stitch up. Some of the ones we have picked out for you can also be great stash busters while others look amazing worked up all in one color. Spend your summertime learning new stitch pattern combinations with these beauties and the hot summer months will fly by!
Enjoy!

Britt Schmiesing,
Crochet World
managing editor
Britt Schmiesing is a knit and crochet designer as well as an artist. She taught herself to knit in 2005 to relieve stress from the rigors of being a junior and high school Spanish teacher.
A few years ago, Britt taught herself to crochet to assist with her new job at Annieís Publishing. Her designs have appeared in Creative Knitting, Crochet! and Crochet World magazines and Seasons 10 and 12 of the TV show Knit and Crochet Now! She loves designing garments and wearables.
See more of her work on Instagram: @britt.schmiesing.