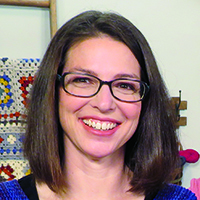 Note From the Editor
The leaves are disappearing and the temps are continuing to drop which means the holidays are fast approaching. For this reason we packed the issue with a variety of gift-making options for you and yours.
In the Say It With Crochet! chapter, we give you several ways to express the feelings of the season. These projects include words and expressions using a variety of techniques, including corner-to-corner, surface crochet and tapestry crochet, as well as crocheting 3-D letters and motifs. Test out a new technique and then perhaps use these projects as stepping stones to adding a personal touch to other crochet pieces.
The rest of the issue is packed full of great smaller projects for gifting that you can whip up in no time. Our hope is that you like them so much that youíll make extra for yourself. There are wonderfully warm and cozy wearables, beautiful throws, and lovely home decor pieces. We havenít forgotten the little ones with a few adorable projects for their amusement. There are also some amazing thread projects including a holiday wall hanging, lovely little coasters and a couple of elegantly designed doilies.
We wish you and yours the very best this holiday season and health and happiness in the new year!
Happy crocheting!

Britt Schmiesing,
Crochet World
managing editor
Britt Schmiesing is a knit and crochet designer as well as an artist. She taught herself to knit in 2005 to relieve stress from the rigors of being a junior and high school Spanish teacher.
A few years ago, Britt taught herself to crochet to assist with her new job at Annieís Publishing. Her designs have appeared in Creative Knitting, Crochet! and Crochet World magazines and Seasons 10 and 12 of the TV show Knit and Crochet Now! She loves designing garments and wearables.
See more of her work on Instagram: @britt.schmiesing.