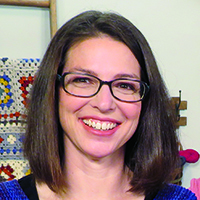 Note From the Editor
It is almost the end of yet another year. Boy, time truly does fly! As I reflect on what I have accomplished this past year, I am also thinking about my family and friends and how much they mean to me. I wouldn't be where I am today without their love and appreciation. My hope is that you, too, reflect on your past year, family and friends as you work on projects in this issue.
With the holidays approaching as well, I am thinking of what I can do to express my love for my family and friends. I love making things with my hands as gifts. I also have a gazillion scraps that I have buried around the house from all the amazing projects I have been working on all year. This issue combines those two concepts into some great gift projects as well as decorations for the coming holidays. Give them to the people in your life you care about the most and share your love via your craft!
The last part of our thread series, Resplendent Squares, is finally here. Are you ready to put those squares together into an amazing piece!? Remember throughout the series we have given you different placement diagrams to give you as many ideas as we could on how to use the squares. But don't feel limited by those diagrams! We would love to see how you decide to put your squares to use. Be sure to share your squares with us on social media by using the hashtag #resplendentsquares!
Enjoy!

Britt Schmiesing,
Crochet World
managing editor
Britt Schmiesing is a knit and crochet designer as well as an artist. She taught herself to knit in 2005 to relieve stress from the rigors of being a junior and high school Spanish teacher.
A few years ago, Britt taught herself to crochet to assist with her new job at Annie's Publishing. Her designs have appeared in Creative Knitting, Crochet! and Crochet World magazines and Seasons 10 and 12 of the TV show Knit and Crochet Now! She loves designing garments and wearables.
See more of her work on Instagram: @britt.schmiesing.