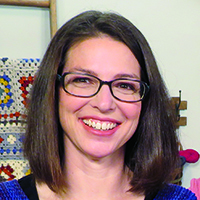 Note From the Editor
Weíve packed this issue with amazing and supercute projects. There are beautiful doilies in our Just Threads chapter that are sure to tempt you to do some thread work. In the up-front sections, we have an adorable little dog and useful, whimsical crocheted goodies!
If you are one of those folks that gets frozen out in your own home by your significant other, we have some lovely, cozy throws and blankets for you in the Relaxing Retreat section. Make these beauties and stash them around the house or on the porch to cuddle up and relax in when you need to unwind after a long dayís work.
This is also the time of year that many take off to the waterfront to pass the hot days in and near cool waters. We have dedicated a whole section to Waterfront Living. You will find amazing home decor pieces, beautiful blankets, a super adorable turtle pillow and even a couple of games, like Nautical Spoons. Instead of using the traditional spoons for the game, you will be using nautical-themed game pieces that are as much fun to crochet as they are to play with. We also introduce a teenage designer, Cora of Crocheted by Cora, to you with her first Crochet World design for an Indoor Flying Disk. Itís sure to keep you amused when the weather isnít cooperating for outdoor play.
The third installment of our thread series, Resplendent Squares, can be found in the Just Threads section. Have you started making your squares and planning your finished piece? Remember, in each issue of the magazine this year, you will get instructions for two squares and then in December 2022, we will give you the finishing instructions. In addition, this month we show you yet another way to assemble your squares. Be sure to share your squares with us on social media using the hashtag #resplendentsquares! We canít wait to see what youíre planning and making.
Enjoy!

Britt Schmiesing,
Crochet World
managing editor
Britt Schmiesing is a knit and crochet designer as well as an artist. She taught herself to knit in 2005 to relieve stress from the rigors of being a junior and high school Spanish teacher.
A few years ago, Britt taught herself to crochet to assist with her new job at Annieís Publishing. Her designs have appeared in Creative Knitting, Crochet! and Crochet World magazines and Seasons 10 and 12 of the TV show Knit and Crochet Now! She loves designing garments and wearables.
See more of her work on Instagram: @britt.schmiesing.