Crocheted Pumpkin Panoply
The first pumpkin pattern on our fall favorites list is The Lacy Pumpkin Patch Crochet Pattern, which uses cleverly stitched sections that outwardly spiral from the center to form each pumpkin's unique shape. This collection is listed as an intermediate skill-level pattern; however, I personally thought these pumpkins were easy to make and stitched up fairly quickly!
Each of the five different pumpkin pattern sizes are crocheted using worsted-weight yarn and a size G/6/4mm crochet hook. The design begins with simple pattern rows that create the first vertical segment. Then, depending upon the desired pumpkin size, this first segment is repeated nine to 11 times to round out the pleasingly plump shape.
I wondered what other sizes of these adorable pumpkins could be made if these patterns were stitched with other weights of yarn and different-size crochet hooks. Below is a side-by-side comparison photo using two of this collection's pumpkin patterns. Hopefully by seeing the variety that can be accomplished with a bit of experimentation, you will be inspired to think outside the box when working with this or any crochet pattern!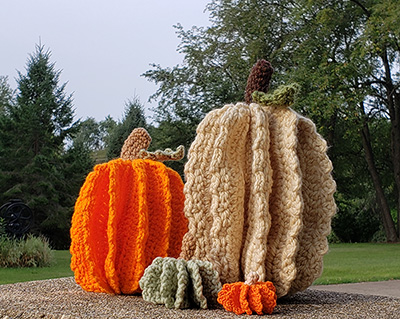 In the foreground from left to right, the light green pumpkin measures 3 inches tall x 3 1/2 inches in diameter and was crocheted exactly as stated in the "Tiny" pumpkin pattern. The finished size of the small orange pumpkin is 1 1/2 inches tall x 2 1/4 inches in diameter and was stitched using the same pattern with the substitutions of sport-weight yarn and a size B/1/2.25mm crochet hook. In the background from left to right, the 8 1/2-inch-tall x 5 1/2-inch-diameter orange pumpkin was made exactly as instructed in the "Tall" pumpkin pattern. The beige 11-inch-tall x 7-inch-diameter pumpkin utilized the same pattern with the substitutions of super-bulky-weight yarn and a size J/10/6mm crochet hook.
This photo serves as visual proof of how varying the size of crochet hook and yarn weight can make a major difference in the finished size of a pattern and why making a gauge swatch is so very important, especially when making a garment. In fact, the results of these experiments has inspired me to try crocheting the "Tiny" pumpkin pattern with size 10 crochet cotton and a steel crochet hook to produce a pair of miniature pumpkin earrings to wear on Halloween. I also want to experiment with spraying a pumpkin pie fragrance oil on a cotton ball and then inserting it inside one of the larger pumpkins during the stuffing process to infuse a heavenly autumn aroma into a room!