In the World of Crochet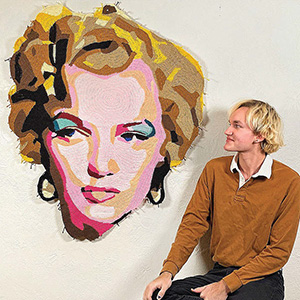 Crochet Portraiture by Will Chatlosh
When we talk of yarn crafts, particularly crochet and knit, we tend to think of the women involved. Whether it's a relative who made an afghan, the owner of your favorite LYS (local yarn shop) or the many talented designers whose patterns grace the pages of this magazine, feminine names and pronouns tend to dominate the conversations.
Surprise! There are a lot of men who love stitching with yarn. According to a 2018 blog featured on the website of ATA, an Ohio advertising agency, in 2016, 71 percent of crocheters and knitters were female and 29 percent were male (https://blog.anthonythomas.com). With so many people forced to stay at home during the pandemic, I have no doubt (but no statistics yet) that the number of men who took up hooks, needles and yarn has increased greatly.
It's not surprising, therefore, that Will Chatlosh, a 20-year-old man from Grand Rapids, Mich., broadened his simple crochet work during this time of isolation. He took a giant leap from small toys to the complexities of designing crochet portraits during the pandemic.
Read the entire article in our December 2022 issue!